TEXTILES & TRADITIONS FROM THE PAPALOAPAN REGION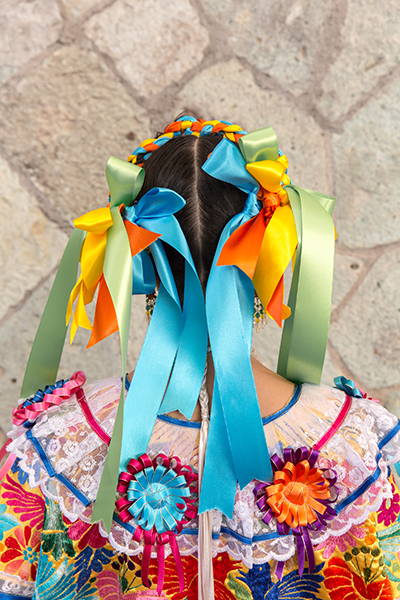 THE MAZATECS
The traditional dress of the Mazatec people focuses on the head-to toe-embroidery on a simple pedal loom cotton fabric: The intricacy of this dress comes from the large hand embroidered patterns seen on all the piece and the figures are hand drawn by a single young woman in the town, portraying mostly flowers and birds of the area, drawn in a large curvilinear style. Once the overall pattern is complete it's embroidered to large areas using silk thread in a variety of bright colors, completely dependent on each embroider's taste. Each woman embroiders the entirety of their dress and this can take up to 4 months to complete.
THE CHINATECS
The traditional dress of the Chinantec people consists in a heavily ornate huipil and simple white refajo (long square blouse with skirt underneath). The huipil is made up of three panels, each woven on a back-strap loom using a shuttle. The result is rich colored brocade fabrics in reds, browns and purples, featuring added embroidery, typically depicting the plants and animals of the area representing harvest and abundance. The geometric patterns represent the weavers at the center of the world. Fully decorated huipils are used for ceremonies and other special events, while more simple ones have only the front part decorated and are used for everyday activities. Each huipil takes approximately 3 months to complete.
THE PEOPLE OF HUAUTLA
Huautla de Jimenez in the Cañada region of Oaxaca is well known for its bright turquoise and pink traditional dress. This bright huipil is made of panels of gauze-like cotton, separated by rows of blue and pink ribbon, the ribbons are gathered at the edges to become decorative frill on the sleeves and the bottom. The cotton panels are then embroidered using a cross stitch technique. The embroideries depict mostly flowers and birds from the region in bright red and purple. The refajo (skirt) used with this huipil is particularly intricate, as it it also embroidered with images of men riding horses along a maroon band on the bottom of the skirt.